Practical work is not really my strongest aspect in computing but the project overall was successful for my group and I did have fun doing it, I learnt a lot from this module and will take key things from it. After learning the different thing you can do with an Arduino and how to code it,  We were given a task to create a project of our groups choice out of the Arduino and to code it right then to test the project to see if it works.
For this task me and my group decided to choose a simple but effective game, something no other than Simon says! this was a smart choice because it could be made with just the components provided in the Arduino starter kit. My reasoning for this is because its a perfect example of a fun project without extra costs or components
The core feature of the game was that light's would pop up, and you would have to memorise the lights which appear in a sequence, you were then given a certain amount of time to complete the sequence correctly if you lose you start over.
The components that were required for this project;
1 x Arduino
1 x Piezo Buzzer
4 x  LEDs
4 x push buttons
8 x 220 ohm resistors
1 x Breadboard
Jumper Cables
The Layout of the electronic circuit may look difficult but it is a medium level of difficulty. The rail is fed by 3.5v whilst utilising the digital in/out pins of the Arduino for transmitting signals to the LEDS whilst also receiving input signals from the push button switches. Also incorporated into the circuit is a Piezo buzzer which creates a sound at a specified frequency when each LED illuminates and when each button is pressed. Another cool feature of the buzzer is it will also create a sound if you lose the game or make a mistake and will play a little melody when you memorise 10 combinations correctly.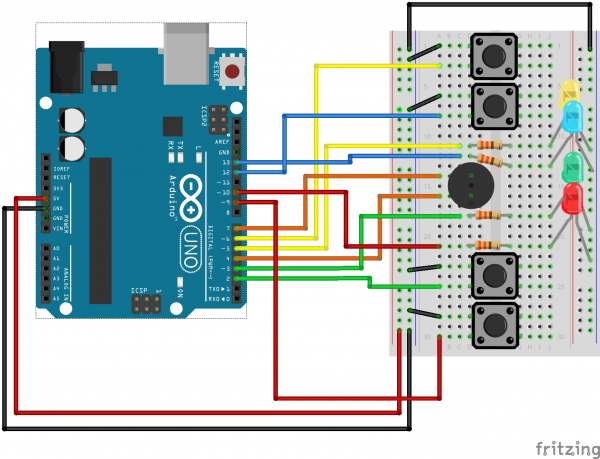 Now whilst the circuitry of this project was fairly simple, the coding was pretty difficult and encountered a few problems that were a pain to fix. The first problem I had after compiling the code was the game throwing a stage error at me. Instead of loading correctly into the initial game, the circuit was creating a random sequence of lights for a count of four then throwing an error.